Recorded Memories of the Hosiery Industry
Choose a name from the list of individual people to read a transcript or listen to their recorded memory.
List arranged according to seniority.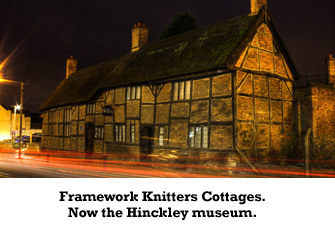 These recorded memories were made over a period at the end of the 20th century and the beginning of the 21st.
They are the memories of local people who were employed in the hosiery industry.


Hosiery factories located in Earl Shilton, Hinckley and Barwell.
| | |
| --- | --- |
| | Index to recorded memories. |
Lilian Coley with Rhianydd Murray
Work and family in an industrial village 1917-1961:
'I happened to get a bit quick…don't you think that's a lot of money for a girl your age…'
Frank Dudley with Rhianydd Murray
Mr Frank Dudley 49 years at Atkins Bros eventually became Managing Director
'It was a general thing to do then, young fella's that were starting work were on the train to Leicester Tech'
Flo Clarke with Rhianydd Murray
Simpkin Son & Emery, 'Here have my nail file, it's got my name on': Work Family and Friendship.
Nellie Skelton with Rhianydd Murray
Living and working in Stoke Golding:
HJ Hall & Sons 1928-1977: 'We loved to go to the pictures then…'
Arthur Amos with Rhianydd Murray
'Working life as a mechanic at Nicholls and Wileman: 'I was dead interested [the 'W'] …really fascinated me…I wanted to know exactly how it worked – what did what'
Bill Lumley with Rhianydd Murray
Reflections on work, family and social life in Earl Shilton 1929-1980:
'There used to be crowds in the street…this was a very prosperous village…'
Keith Lockton with Rhianydd Murray
From apprentice counterman to secretary of The National Union of Hosiery and Knitwear Workers:
A working life 1933-1984
Mr & Mrs Bateman with Rhianydd Murry
A variety of jobs in the hosiery including full time union rep and other memories 1934-1980s:
'Most of the bosses were working men who saved enough to buy a set of machines…'
Neville Evans with Rhianydd Murray
A Nuneaton boy: Working as a knitter at Bennett Bros 1934-1986.
'At one time the best paid pieceworkers in the Midlands…we got terrific holiday pay'
Betty Knights & Doreen Marvin with Rhianydd Murray
Working as a flatlocker at Jimmy Bennetts and the Manchester from the age of 14 to 74:
'Flatlocking – loved it, I just enjoyed doing it…I should love to have a go now!'
O'Rourke sisters with Rhianydd Murray
Three London girls: Working life at the Argee 1940-1974:
'Pierre made heaps of difference here, he was a wonderful man…'
Charles Davenport with Rhianydd Murray
'All liberals…Hinckley Co-op and chapel minded…all hardworking…looked after their fellow men'
Harold Cash with Rhianydd Murray
A life in the hosiery 1942-1992.
From an apprentice counterman at Moore & Osbourne to a finishing mechanic at the Argee:
'In the old days you were very proud of what you were able to do and what you produced'
Bert and Anne Hall with Rhianydd Murray
From the hatting industry to thirty-five years as a Master Dyer at Bennett Bros late 1940s-1980s
Frank Edwards with Rhianydd Murray
A family business. Life in an industrial town, Hinckley 1925-2005:
'It's granddad's fault we are in Hinckley, the story goes…'
Mary and Marjorie with Rhianydd Murray
Working Life at Toon's and Nicholls & Wileman from the age of 14 in 1945:
'She put a little pinny on us…we were very shy…and Mrs Coley learnt us how to clip…'
Doreen Thomas with Rhianydd Murray
The Argee straight from school in 1945. 'I'm not blowing me own trumpet, I was a good machinist'.
Tony & Olwyn Taylor and Diane Elliott with Rhianydd Murray
Work, Life and Friendship:
'I've always liked working in the village…we've had a good life…and a nice lot of friends'
'I was never out of work…I gave myself pride, I was always prepared to adapt'
Doreen Marvin and Gordon Kayliss with Rhianydd Murray
Work, family and social life in Hinckley and Earl Shilton.
Bennett Bros, a family firm, and working life as a finishing mechanic from the mid 1940s:
'Job for life or if you didn't like your job…get another one…plenty of jobs then…'
Maureen Smart with Rhianydd Murray
'Forty-six years working at Flude Hosiery from the mid 1940s.
Continually adapting to change and working as a factory union rep:'
'They'll never cut out fully fashioned seaming, there'll always be fully fashioned stockings – foolish!'
Ron Massey with Rhianydd Murray
'They took the first letter of each of their names Ritchsteiger – R and Gildersgame – G and made it Argee Company.
That was way back in the 1920s…'
Cliff and Mary Maund with Rhianydd Murray
A Shropshire lad, working as a knitter at Bennett Bros and Nicholls & Wileman,
and Mary a Sapcote girl.
Carole Bramley with Rhianydd Murray
Carole Bramley early working life in Pex and Corah's:
'You tended to think that factory fodder was from the secondary modern schools'
Eileen Robinson with Rhianydd Murray
Many and varied jobs since starting work in the late 1950s:
'Looking for a job - we got the Hinckley Times, go to a café – 100s and 100s of jobs in it at that time'
Bill Boggon with Rhianydd Murray
Bill Boggon, Secretary of Hinckley and District Manufacturers Association: 'It came home to the Union and their workers in this town that radical changes had to take place in working practices – companies started buying multi-feed machines'
Susan Judd with Rhianydd Murray
Work and friendship in the hosiery 1967 to 1981:
'Records played in an afternoon – Elvis, Gene Pitney…'
Chris Startin & Denise Evans with Rhianydd Murray
Working life at James Bennett's from the mid 1970s:
'Nothing like it was…six styles on the go…at the moment 72 styles…'